Tuesday, April 2. 2013
We
were lucky to be featured in Tegenlicht. Tegenlicht are exceptional documentary makers who go in depth into major issues of humanity.
The part where I'm being interviewed starts at around 34 minutes. Most of it is in English, but our interview is in Dutch, possibly there will be a translation/subtitled version made available.
The documentary displays an optimistic view of the future where global energy, food, healthcare are abundant and affordable, and even physical goods can be manufactured on the spot in your own home.
"The the rate of innovation is a function of the amount of conversations that are going on."
- Peter Diamandis
3D printing democratizes the ability of ordinary individuals to create physical solutions, to solve transportation problems by never producing more stock than is used, to produce more personal objects and efficiently, with much less waste. The future is here! I'm thankful that we get this opportunity to have so much control over the physical things around us, and the ability to go from your imagination to a real thing, in minutes!
Monday, April 1. 2013
Now for something that's not related to 3D printing (well, not directly), but so insanely cool that I have to blog about it right now (no, this can't wait another day)!
Through a friend at Google, whom I will call Dave (not his real name), I was able to get one of the first sets of Glasses. Dave had two sets of glasses for testing from having won the "iwantglass" competition. Of course it's a pre-release, so the software running on it might change pretty radically, and it has already crashed on me once. Apart from the fact that the HUD display has a rather small viewing angle, the picture really is awesome for augmented reality. Right now, all the apps running on it were 2D, so I can't wait for the 3D API to be used to overlay video's over reality. Google are saying that the
3D overlays will be used only to a minor extent
.
For those who have not seen the news about Google Glasses yet, this video will give you a great impression:
As soon as I have had some more time to play with it, I will start posting video's about this remarkable, non-intrusive internet device!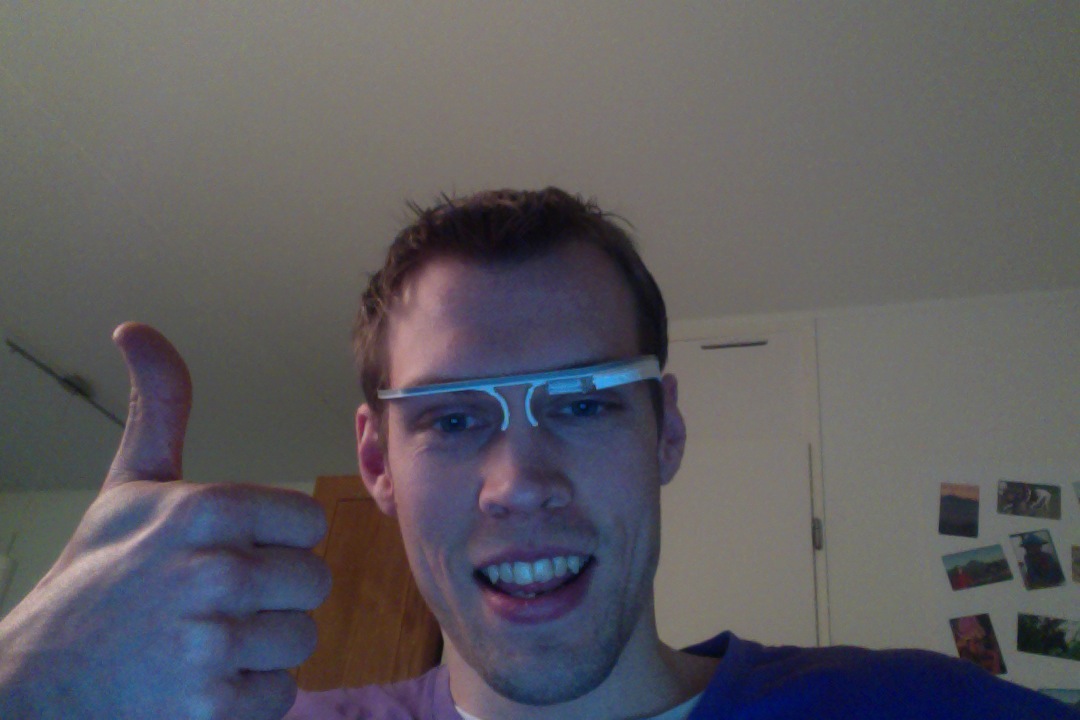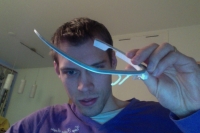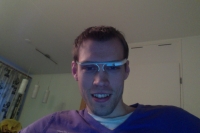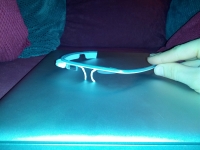 Tuesday, December 4. 2012
I'm really excited that our company has just started offering
fully assembled Ultimakers
in addition to the kits!!
Don't worry, we won't drop the kits from our offering any time soon! We're still great supporters of the hacker community. Also... we keep on innovating and won't leave early customers with a 'legacy machine' empty handed. Specifically, we provide the opportunity to upgrade your Ultimaker to make sure you enjoy the benefits of those who bought the latest version of the Ultimaker. We've done this through upgrades such as the
UltiController
, the new
Hot-end
, an
extruder drive upgrade
, etc.
Monday, December 3. 2012
At
Codebits
, an amazing event organized by
Sapo
(an awesome, innovative Portugese company) a lot of nice stuff was happening. Besides a 48 hour programming contest, there was a hardware hacking den. This is where I met Mitch Altman again and lots of cool Portugese people who were making awesome code and awesome things! Also had a nice talk with
Rob Bishop
, a smart and down-to-earth guy who revolutionizes computing by making the Raspberry Pi into a global hit 'from the comfort of his bedroom'.
See my
Google+ footage of the event here...
Besides printing stuff that people designed all throughout the event, I also gave a talk and several workshops on how to 'code pysical objects'. A recent development (found after the talk) that I'm really excited about is
CoffeeSCad
! You should check that out, too!
For a video of my talk, have a look
here
or click the image below.
Again, I'd like to thank the many volunteers, in particular Pedro! He and his many friends made the visit to Portugal a very nice one. Also, Celso, who was main instigator of the whole Codebits experience, which really is something to whiteness before you believe it! It was also amazing to meet Nelson Neves and Dini Miguel who were doing awesome projects of which I'm sure you'll learn more.
Ultimaker
was proud to be listed among the the sponsors of the epic Codebits 2012 event!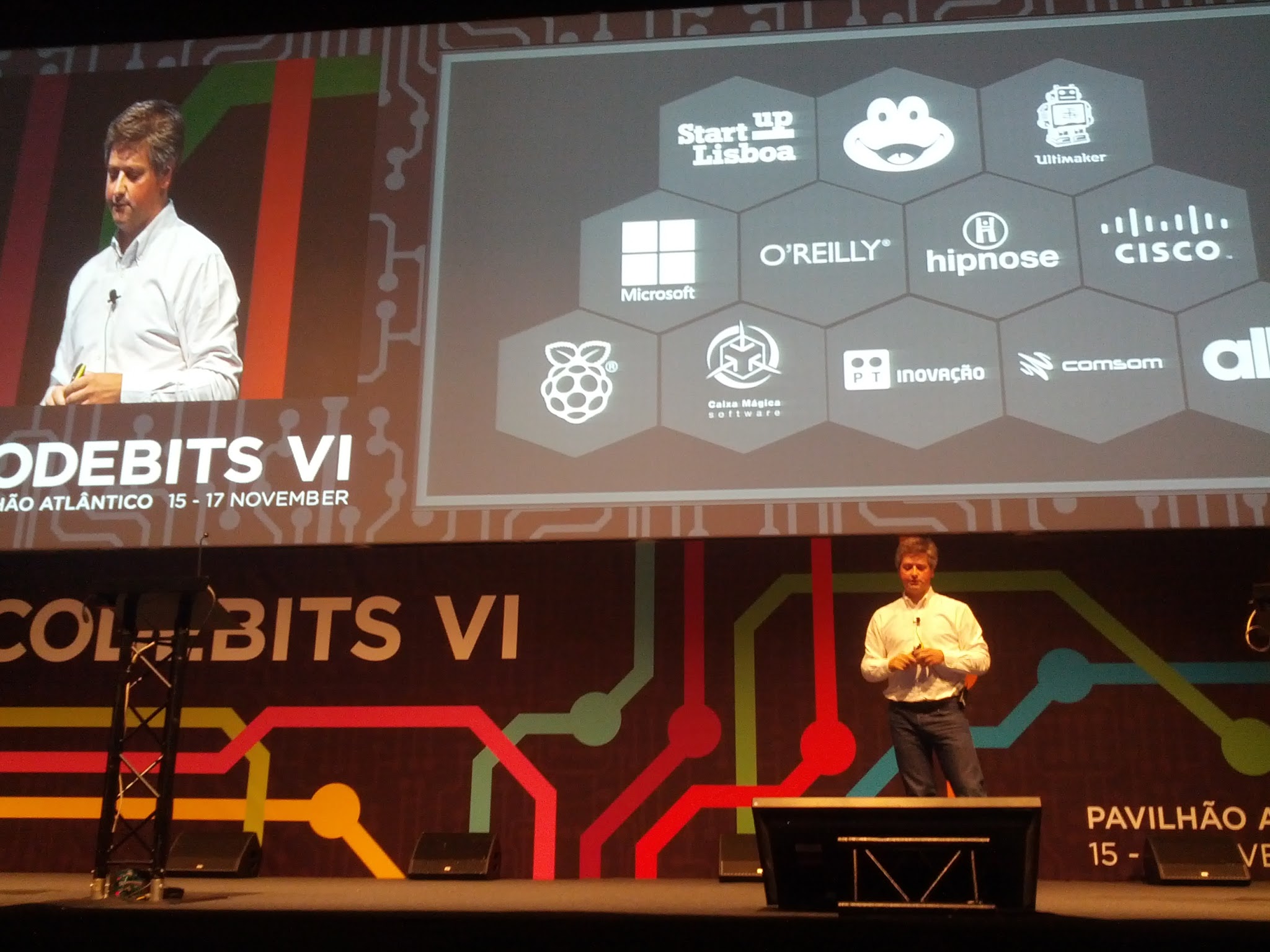 For those of you who know your Portugese, Ultimaker was
mentioned on TV station RTP, here
.
Can't wait until Codebits 2013 arrives!
Wednesday, May 23. 2012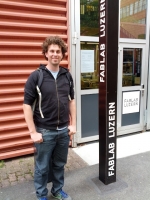 With al the busy-ness at Ultimaker I haven't traveled much. Finally I had a nice trip to Switzerland, to give a talk and meet our friends from the
FabLab Luzern
, who also give
workshops
in building the Ultimaker.
I met Roman Jurt in real life and he showed me the FabLab, and added
UltiControllers
to their Ultimakers. He showed me around Luzern, Zurich and Bern.
Later I met Ramun Berger, also FabLab manager and director of
89grad
in Bern. These are great guys doing very interesting stuff, and sometimes they open up their company's workshop to be a FabLab. They have two Ultimakers in the lab and used it to make some really nice prototypes for their customers. One of the 89grad-lab visitors, Thomas Staub, was working on a quadcopter for his employer,
DFRC
.
It was nice it see how 89grad works on very diverse but innovative projects and how they open up their lab to others!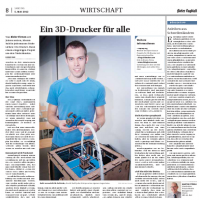 Later I had the opportunity to give a talk at "schule für gestaltung bern und biel-bienne" or the design school of Bern/Biel. The subject was mass-customization (slides
here
). The subject isn't my expertise but I had read a whole shelf of books which touch upon the subject, so I could give good examples. Also, I put it into practice by printing bracelets with the visitor's names on it. It was a funny surprise to see my name on posters around the school's main building and to see that the press was attending the talk. It's great to see the subject will become better known in Switzerland, and this may contribute to it.
Thanks Marc Zaugg for inviting me, and thanks everyone for making me feel welcome!
Friday, April 20. 2012
We've been really busy with many developments at
Ultimaker
! Most notably: the
Ultimaker Controller
, reducing lead times, adding individual 3D printer parts and lowering the overall shipping costs. Also, we're releasing an improved version of ReplicatorG. Test versions are available at
software.ultimaker.com/beta
.
Together with Julius, I made this cool video of the UltiController:
Sunday, March 18. 2012
Usually, during the weekend I spend my time working on
Ultimaker
as a company, or I have social obligations. For this weekend, my wife surprised me in an original and heartwarming way. She said she had planned a little trip, but instead the surprise was that I could do anything I wanted, EXCEPT work. So I spent the entire weekend just playing with my Ultimakers instead of improving them or improving the company. A whole weekend of 3D printing!
I was pretty emotional because of her altruistic gift! Funny, I feel like I already have everything that I could wish for. The only thing I can't have enough of is time!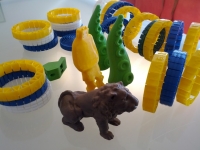 These are the results, so far:
I'm really fond of how the lion turned out! It was a 5 hour print at high detail setting (sub 0.1mm layer height).
Friday, January 27. 2012
De afgelopen tijd zijn er een paar evenementen geweest waar ik nog niet veel over geschreven heb. Daar wil ik bij deze verandering in brengen.
Ik heb een presentatie gegeven op How Do You Do. Dat was een super gaaf event tijdens het STRP festival in Eindhoven, waar men tips en trucs uitwisselde op allerlei technische en media- gebieden. Ik vertelde wat over het delen 3D design. Hier is een
leuk artikel over geschreven
en ook een videootje geschoten:
Verder stonden wij afgelopen week als
Ultimaker
op
RapidPro
, waar ik ook twee lezingen heb mogen geven over open source innovatie en 3D printing. Dat was een druk bezochte beurs met veel interesse in de Ultimaker!
Sunday, October 30. 2011
Last week was the
3D printing event in Eindhoven
, the Netherlands. Ultimaker exhibited there together with about 20 other Ultimakers, shown by their proud operators
(see this Ultimaker blog post)
. There were also RepRaps, milling machines and
LeBigRep
was printing on site with their HUGE printer. A lot of bioplastic was consumed!
At the event, I was asked to give the first presentation. Below are the slides and recorded video.
Start Movie
View it via direct streaming link or the event page at OpenWebCast.nl.
Tuesday, June 28. 2011
Bernhard, an Ultimaker power-user at MetaLab Vienna
, has gotten the
Sprinter firmware working on an Ultimaker
. Sprinter is written by Kliment and Caru, based on
Triffid Hunter's codebase, based on FiveD
[update]oops, it's based on the Tonokip firmware[/update]. It has undergone some serious rework over time.
Inspired by his impressive results, I've also experimented with this a bit more. The travel speeds you can get out of this are a little better. Without accelleration the max speeds are around 333 mm/s (FiveD firmware) and with accelleration they were up to 533mm/s (Sprinter firmware). Somehow the firmware doesn't seem to step the motors any faster. When you set the FiveD firmware at travel rates above 333 mm/s it actually goes slower than at 333mm/s. So somehow there's some microcontroller congestion or it's possibly a bug. The benefits of smooth acceleration are especially important for machines with a lot of moving mass. The Ultimaker isn't the most spectacular example for acceleration because it already can reach the high speeds without software acceleration. For the Ultimaker, the biggest benefits of Sprinter firmware are expected to result from an increased buffer size.
Anyway, to show you the speeds we're now talking about, this is the result:
With the help of Bernhard we finally made a few discoveries as to what causes a less smooth print at higher speeds (becoming noticeable at 70+ mm/s). When using ReplicatorG, the print results were not really much different, except when fillet is enabled in Skeinforge. Fillet is meant to smooth out sharp turns, but it turns out that it smooths out any kind of line segment also lines that nearly have the same orientation. Perhaps this behavior should be change with an angle limit. But Fillet causes the buffer to run dry because there are too many small pieces of G-Code that succeed each other in a very short amount of time. About every two visible segments, four lines of GCode are actually sent. This is, not coincidentally, also the firmware of the FiveD software.
All Sprinter prints were done from ReplicatorG, which now also has an Ultimaker Sprinter machine profile in the newly released ReplicatorG version at:
http://software.ultimaker.com/
. Note that: This Ultimaker release is not a fork of the normal ReplicatorG, it just undergoes some more testing and has the latest, tested Ultimaker drivers. All
Ultimaker commits
are publicly visible and offered for integration upstream.