Just playing and 3D printing!
Usually, during the weekend I spend my time working on Ultimaker as a company, or I have social obligations. For this weekend, my wife surprised me in an original and heartwarming way. She said she had planned a little trip, but instead the surprise was that I could do anything I wanted, EXCEPT work. So I spent the entire weekend just playing with my Ultimakers instead of improving them or improving the company. A whole weekend of 3D printing!
I was pretty emotional because of her altruistic gift! Funny, I feel like I already have everything that I could wish for. The only thing I can't have enough of is time!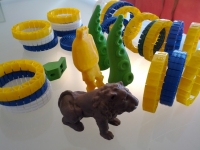 These are the results, so far:

I'm really fond of how the lion turned out! It was a 5 hour print at high detail setting (sub 0.1mm layer height).