REPRAP meeting (Dutch)
Op zondag 15 november organiseert ProtoSpace de eerste grote RepRap meeting van Nederland! Iedereen die een RepRap heeft, er een aan het bouwen is, of erin geïnteresseerd is nodigen wij van harte uit om langs te komen. Heb je een RepRap (of een afgeleide ervan), neem hem dan mee! De bedoeling van de bijeenkomst is om kennis en ervaring uit te wisselen, en natuurlijk te printen!
Wellicht samen in 1 middag genoeg onderdelen printen voor een nieuwe? Wie weet lukt het!
Lokatie: ProtoSpace
Datum: zondag 15 november
Tijd: 13 – 18 uur
Als je met een RepRap komt, laat het dan even van tevoren weten aan Siert Wijnia (siert@protospace.nl) Tot dan!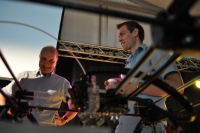 Update: the RepRap day was a really big succes! Thanks to everyone for being there, for the several people that broughts RepRap and Makerbots!! Here are some pictures.