Banning 3D printers?
Nick Jones from Gartner made an interesting remark:
"[A]s one of my clients pointed out yesterday, do we really want an affordable domestic fabber? Fabbers will likely "print" objects using some form of plastic. So the inevitable consequence of mass market fabbing will be a huge increase in the amount of non-biodegradable plastic waste clogging up the planet for hundreds of years into the future. Should we maybe ban fabbers before the problem arises? Like most problems there are solutions, like biodegradable plastic. But if we wait until all the problems with a technology are solved before we permit it, then we will waste a decade or two of potential value; and in any case there's no way we can predict all the social and environmental issues associated with a new technology before it arrives."
I see this as another opportunity to highlight some benefits. 🙂
I'm glad that the RepRap already uses bio-degradable PLA as a main material and that we have a proof of concept prototype recycler. I don't see such a dark future. Plus, we can produce sparse objects more easily than with injection moulding and still have a decent exterior, requiring no assembly or expensive multi-part moulds. I think 3D printing is part of our much more innovative future. It's not a separate peripheral product that we will have in our homes, it's a transformative enabling technology, much like the internet, that will catalyze physical product innovation.
Nick is right that we should consider the relevance of thinking about this in time. There are ecological threats, but there are even more opportunities. If you consider banning a flexible production technology, you're left with artisan production (inefficient, custom made) and mass-production (efficient, limited product ranges because of high up front costs). There would be an important missing element. He doesn't seem to see the repercussions of a ban…
As a RepRap 3D printer owner I (can) speak from personal experience: This week, it printed out another RepRap (all its parts, I need a couple of weekends to put it together). It's quite efficient compared to having lots of parts shipped from overseas and then realizing you've spent 80 dollars on pulleys that do not fit. After doing exactly this, I designed the part and printed it myself. The printed part did fit and I could instantly see if it wasn't the wrong size before printing out the required batch size. Look in your drawers and closets, they are filled with things that are not entirely or exactly what you needed. What if you could change, upgrade the products that you used? If we had the source code to the product and could generate a version for testing its usefulness on the spot, that would change things!
What about fabbers upgrading themselves?
This saves you from having a new 3D printer every time. Just like we prefer to buy a new inkjet printer once the cartridge runs empty, because it's hardly any more expensive than just the cartridge. What about people (re)using (junk) electronics combined with printed parts to make new things? We collect so much stuff "In case we need it". Would we still be doing this when we could have it as soon as we really encounter a need?
Think of the size of the replacement market. Not only is the size of this market huge, it is also severely limited by factors that do not apply to 3D printed parts:
misaligned interests of manufacturers (buying a new product generates more revenue that supporting older ones)
uncertaintly about demand for the items, because it's unclear in advance what will break
the stock keeping costs of these huge numbers of parts
limited revenue possible, yet high transaction costs (shipping and handling)
A category for replacement parts already exists on thingiverse. If a belt buckle breaks, you can now print a new one:
These are printable designs. The manufacturing data can be downloaded and executed by a 3D printer or other flexible production technology.
How much would we save on shipping and the related environmental burden: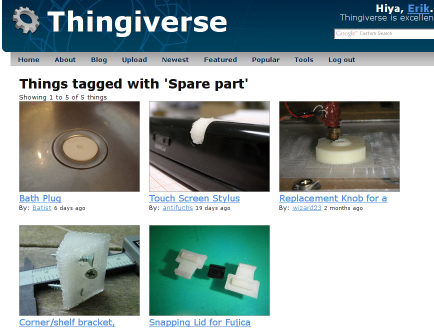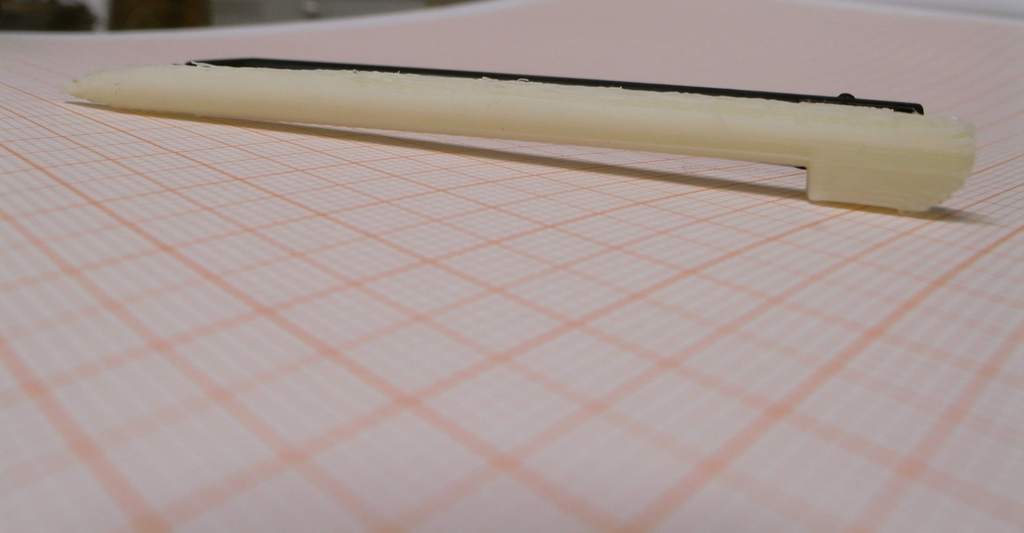 "consumer" interests are aligned with the environmental issue:
This means having reduced +/- 16 euros, mostly coming from inventory, packaging, handling and shipping costs to less than 16 cents. That's a > 100-fold decrease in costs! Added benefit is that you don't need to wait days for it to arrive. Well, less than 10 minutes probably. That's the second 100-plus-fold decrease, time!
These are products for which the current distribution model cannot compete with a digital distribution and print-at-home scenario. Once RepRaps and makerbots are more common, this will generate an immense value!
It allows us to fix things and counter product obsolescence. Also, I regularly print out things that I would otherwise need to go to the store for. This saves gas and CO2.
With mass production you end up either under or over producing. To prevent underproduction, you end up making the trade off between production and opportunity costs of not producing. All this overproduction is waste and is inherent in make to stock manufacturing of physical goods. 3D printers are make to order production technology. The result is that products for which there is an actual market will see the light of day, other simply won't, they'll stay digital. While this is important for innovation, it clearly doesn't have the waste problem.
What about open, modular parts where you have 'situated physical products' that help you with a certain task for a week, and then can be reconfigured to help you with another task. I believe open source aids in this standards formation. Right now all our products have their own engines, batteries/power supplies and processors while we use only a few at the same time. This 'situated hardware solution' requires a combination of generic and solution specific parts that are designed to be reconfigured. That's where fabbers (such as 3D printers) come into play. Right now products are so integrated that if one thing breaks, we end up replacing it all.
One more thing: If the question is "Should we ban 3D printing on environmental grounds?" you implicitly assume that you could ban it. While theoretically it would be hard, how would you enforce it? It is hardly possible nor is it beneficial to try.
For a more detailed comparison of the environmental costs of local fabrication (ship homogenous raw materials once) to centralized fabrication, see my post on the open manufacturing list.