Thursday, November 27. 2008
You may have noticed 'Use Firefox!' pictures on many websites. There's a story behind this which applies to me as well.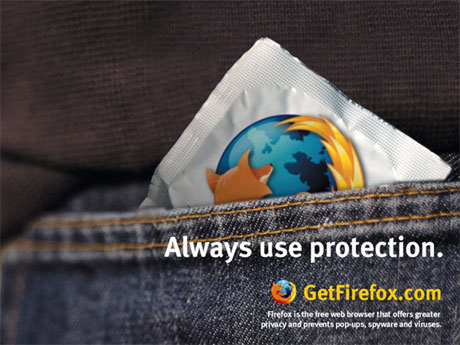 As a web developer, even when you only use Linux, you inevitably get frustrated by the enormous pool of problems caused by
deliberate non-compliance
of Microsoft's browser "Internet Explorer". Just like there are standards to drive on the right side of the road in one country (for people to drive safely), there are standards that ensure everyone that uses a web-browser can work reliably. But now we can't even afford to have differences between countries, since the internet is an inherently global network. While non-compliance of web-browser technology doesn't result in lives lost as directly as car safety standards, it is an enormous economic loss and makes the web a much less fun place than it could be. It is clear that if, for example, an office of a financial institution can't use e-mail for an entire day, this results in lost productivity. Imagine what it would mean if the browsing experience is limited for over a decade... Browser non-compliance is why websites often don't work well, despite extra effort of web-developers trying to get it to work mostly in the most important browsers, and most versions of them. It is not unwillingness of developers, things just become much more complex that they would need to be. When different versions react differently you have to add exceptions that run in one of the two browsers (within an if condition). But sometimes the amount of combinations of 'browsers times versions' becomes so big, that you cannot write exceptions anymore. This is when you need to start using a framework that abstracts away version issues. Essentially, you're adding extra software to reduce the complexity. This software can be written and improved by many people, since many sites can use it. It has even become quite sophisticated. This does not mean that it wasn't a responsibility of the browsers to conform to standards, so everybody can view the same content reliably. Also, learning a framework is like learning a new language, and more importantly unlearning the old way of doing things.
Many web developers use jquery (I do) or scriptaculous (I tried, too big for my purposes) to make up for the non-compliance to CSS in Internet Explorer. It only takes one browser (internet explorer) to ruin it for everyone, because we are all forced to design for it. When you know this, it becomes increasingly frustrating when you're mixing up 'the old' ways of doing with the new ways and finding out about the quirks of the new framework.
I'm now sure that I spend more than half the time of making a website on making it work in multiple browsers at the same time. Yet, when it works in Firefox, I'm can be pretty confident that it works in Google Chrome or Safari, since they adhere to standards much more than Internet Explorer. The few problems I have with those are pretty easy to fix or usually not even perceived by most web-visitors.
You can't really change the browser population much by asking people to download another browser. People are too lazy to change and that's the main reason why Internet Explorer has enjoyed a major market share for all this time. Facing reality, I'm now forced to start understanding jQuery and why it isn't behaving either... when really get stuck, I have to rewrite everything to scriptaculous I guess...
So thank you Microsoft for making web development a whole lot less fun (and elegant) and making the web a much more unreliable medium.
Tuesday, November 25. 2008
When researching the distributed user-centered innovation process, I came across this lecture by Eric von Hippel (see below). Also, in my presentations I've quoted Eric von Hippel a couple of times. He researches how innovation driven is often driven by users and what the effects of that are. It is very applicable to what the emerging FabLabs and RepRap project are doing.
When extending the open source concept from software to 'hardware' (as in actual, physical things) von Hippel says the following:
"... In the case of open source software this is possible because innovations can be "produced" and distributed essentially for free on the web, software being an information rather than a physical product. In the case of the sports innovation example, however, equipment (but not technique) innovations are embodied in physical product that, to achieve general diffusion, must be
produced and physically distributed
. These activities generally involve significant economies of scale. The result, in the case of the windsurfing example and for physical products generally, is that, while innovation prototyping and field trial and refinement can be carried out by users and within user innovation networks, production and diffusion of the physical products incorporating those innovations will usually be carried out by manufacturing firms. ..."
Source: von Hippel, E., Horizontal innovation networks - by and for users,
Industrial and Corporate Change Advance Access
, published May 16, 2007, p. 22
In 2007, the RepRap project was not well known (an still isn't know to the average person) and had not produced many visible results. But right now (Q3 2008), there are more and more people printing 3D designs to actual physical objects and they are blogged more and more often adding to the publicity for RepRap. Also,
thingiverse.com
(a project initiated by RepRapper Zach Smith) allows 3D printable designs to be shared with the world, or downloaded for printing. Von Hippel acknowledges the trend of user being in control of designing and innovating objects and RP (3D print) service bureaus to offer manufacturing as a service. Along with that, RepRap now has the potential to really to reach every home that wants a 3D printer
"In a sense, hardware is becoming much more like software, up to the point where you actually fabricate an object," von Hippel says. "That's why you're starting to see open source techniques in hardware. Design is largely going to shift out from manufacturers to the communities."
Source: Eric von Hippel, MIT
In his talk I noticed a strong resemblance with C.K. Prahalad's when it comes to turning manufacturing on it's head. C.K. Prahalad, in his book "The new age of innovation", argues that companies should service users so that they can innovate the products. In this co-creation process, where much of the innovation comes from the customer, it becomes possible to tailor products to the needs of a market segments as small as a single individual, while utilizing a global pool of service providers.
Wednesday, November 19. 2008
There is considerable talk about a revolution that awaits us in personal fabrication. A lot of the news reaches me, but mostly not the mainstream media, YET. Fabrication tools (Fabbers) such as the
RepRap
and Fab@Home are becoming increasingly accessible for the average user. This is in terms of price (starting at 500 euros), ease of
obtaining 3D printer parts or kits
, quality of documentation, quality of the 3D printers themselves. These factors are being further improved as we speak by a huge network of active volunteers and fabrication enthusiasts.
At the same time, there are more and more FabLabs!
Grotere kaart weergeven
Also, there are many RepRappers close to you.
A nice
quote
about the FabLab Utrecht is:
"[..] FabLab is equipped with: a laser cutter, a vinyl cutter, a milling machine and a full colour 3D printer. The impressive bit of FabLab is not the fact that the type of machines it offers exist. The impressive part is that you can get these machines to do your bidding by feeding it things as simple as PDF files. You create your model or drawing and then basically hit the print button, select 'laser cutter' instead of your regular ink jet printer, and watch the machine get to work."
At a FabLab, you can use PDFs for the RepRap laser cut parts and press print. After that, you need to put the pieces together just like you (used to) do with lego! It's so easy, you almost forget that it's an advanced machine and that the end result are machine parts for a machine that can produce objects out of any arbitrary shape! You can use "industrial grade High Impact Acrylic" or.... use simple plywood...
Also, the tools to generate 3D models are becoming better and newer, and much easier to use methods are developed.
SketchUp
is a good example of what you can use, but also games provide the option to create characters or avatars that can be exported for printing (e.g.
Spore
)!
Thingiverse.com
.
"The dream behind Thingiverse is that someday in the not so distant future, when everyone has a RepRap machine, they will be able to go to Thingiverse.com, find a useful/interesting/cool thing, download it, print it, and 15 minutes later be able to hold the actual thing in their hands. This is the coming revolution of digital fabrication and we want to help you make it happen."
Now there is a new repository for 3D models, but also 2D designs for laser cutters, drawings, electronics designs, etc. along with pictures (rendered and photo's of end results), construction guides and much more.
Some time ago, people didn't really see the need for computers. Now, because they are so useful because you can do almost anything with them, everyone has a personal computer. Now, personal fabricators are becoming more and more available, powerful, easy to use and fun. I'm talking about the near future: Especially 3D printers that can mostly copy themselves (for just about 20 euros worth of plastics) have the potential to be in many people's homes.
Friday, October 24. 2008
If you haven't seen Zeitgeist the Movie,
go see it now
(ps. you can turn of the Dutch subtitles by clicking on the CC button). It's free to watch online and you may copy it. It is a very thought-provoking documentary that dismisses many commonly held beliefs. It doesn't do this in a subtle way, but the style is motivating and the general idea is: don't just take the public image of what's going on for the truth. You should not take things Zeitgeist says as the truth either, look for this yourself. For example about the WTC being a controlled demolition, I have my doubts about that. I don't dismiss the possibility either, though. There's a lot of good information out their on the WTC on Wikipedia on the controlled demolition theory. I have no doubts that a lot of this were in reality not as the US government admits, but that's nothing new. Get used to the fact that the media misrepresent these issues. They can be influenced. But, you should form your own opinion. Be critical, there are many of bad arguments that are made to defend both theories. Also, get used to the fact that powerful people do really nasty things. I tend to seek for the 'good' in every person, but there's a lot of damage done by people pursuing their own interests blindly. An
inaccurate interpretation of Adam Smith's theory
says that it's in everyone's interest for everyone to pursue their own interests. In this interpretation the invisible hand, the market forces would regulate the system. This is not even what Adam Smith argued to be true, but now many people still defend this view. And they often do it by referring to the authority that Adam Smith had. Self-interest is bad. Nobel Prize-winning economist Joseph Stiglitz recently said: "In this sense, the fall of Wall Street is for market fundamentalism what the fall of the Berlin Wall was for communism - it tells the world that this way of economic organization turns out not to be sustainable." If we want to be successful and have social wealth, we must start at society's foundation: trust. High trust societies are proved to function much better than low-trust societies. I read a major treatise on the subject of
TRUST
, it's extensive but very good). Besides a lot of evidence, it's common sense too. Society can achieve more when you trust and help each other.
Back to Zeitgeist. They do quite a lot of tricks to make things 'feel' like everything is evil from the bottom up. I am not so pessimistic, but there is no doubt that the current economic system is not the best system. You should be critical about how good it really is and look for alternatives. A more open, direct and transparent democracy would be much better. We should work towards an environment where sharing of ideas is promoted, not keeping ideas. Luckily these changes are happening as we speak, simply because people want it.
People want to share
.
Open source hardware is getting bigger
. This doesn't mean that there aren't many things that need to be resolved, so the scope of sharing can become much bigger.
Eric von Hippel of MIT states that: "In the case of open source software this is possible because innovations can be "produced" and distributed essentially for free on the web, software being an information rather than a physical product."
-- von Hippel, E., Horizontal innovation networks - by and for users, Industrial and Corporate Change Advance Access, published May 16, 2007, p. 22
Elsewhere he says:
"In a sense, hardware is becoming much more like software, up to the point where you actually fabricate an object," von Hippel says. "That's why you're starting to see open source techniques in hardware. Design is largely going to shift out from manufacturers to the communities."
RepRap and other open source fabbers are an important for distributed innovation of physical products. They will be important to this change and wil
both precede and set the stage for nanotechnology, further down the road
.
But the transition from the current 'scarcity based' economy to a resource (value) based one another is a major change. The addendum (Zeitgeist part two), focusses mostly on the financial system. It says that we should not support it. It then follows to explains the Venus Project. This is essentially a future design for cities where technology enables them to live in harmony, more or less free from work and most importantly: free from greed and corruption, because it's a world based on abundance instead of scarcity. Many of the ideas are strong and positive. They do not explain how to make this transition though. There is some
critisism to the design
. Independently of Zeitgeist, while looking for example of open source hardware I found out about a community called
Factor E Farm
. If we're thinking about open source, using it or perhaps even developing (like I am)... they are LIVING it. What's even more special, they're doing it now. That they're getting their hands dirty is by no means an indication that they don't have a plan. Their bigger plan is actually
extensively thought through and documented
.
I think that the Factor E Farm is a much better candidate to than the Venus project. Because it is an open source farm and its plans are actually being implemented as we speak. They live off the grid, are creating their own water supply based on a well that is made with open source plans. They've built an open source tractor, concentrated solar power applications, their own PV panels, growing seeds, making their own flour, open source housing (Hexayurt), etc. They also develop a hydraulic press to press pretty solid bricks from earth. Those can be used for construction. Sounds like fun and they have an excellent group that tinkers a lot and also gets a lot of results. As far as I can see all of their results are made open source and published. They've also identified RepRap and multimachine as being very useful. It would be a very interesting setting to have a RepRap over there. The video's are nice to watch and give you a quick impression of what they're doing. Many of the results are pretty recent. In other words, they're really busy making this happen. You should have a look at the movies on their blog
here
.
I think it has the ability to spread. I hope another site will arise in Europe. To be honest, my hands are itching... But for now I'll stick to the RepRap project, because through the RepRap, a similar decrease of dependence on outside suppliers is possible. Ecologically it is a major change, people can use their home-grown bioplastics (both biologically sourced and biodegradable). Or they can recycle waste plastic into useful products. Since we have nearly infinte amounts of waste...
I see a nice synergy where the RepRap is one of the early steps towards a more locally accountable and sustainable. More of the project plans should be 'encoded' in CAD files accompanying the plans. This make transferability across sites much easier. Distributed innovation is easy in software, but in hardware it's more complicated. The RepRap takes away major impediments of developing physical stuff collaboratively while physically dispersed.
Wednesday, October 22. 2008
The pictures of the green city lab are available
at fablab.waag.org
. All in all, it was a really fun and interesting event where I met may wonderful people!
Monday, August 4. 2008
Isn't it great that you can script anything in an open source OS such as Linux/Ubuntu? Dcop rules. A good reason not to use windows (for me that is). If you still bound to win32, here's a great band-aid for this lack of 'scriptability':
Imagine the perfect piece of software to automate all your dull, repetitive tasks. It exists, and I think that the best one is this:Â autohotkey. Not because I evaluated all of them, but just because it's (more or less) perfect.
It's easy to understand,
it has extensive scripting capabilities,
can respond to hotkeys,
monitor the clipboard and do useful stuff in the background,
it's versatile
and you can make simple EXE files of your end-product.
Did I say it is free, as in Open Source and as in does not cost a penny?!
My significant other was typing over long questionnaires from a printed .csv file into a windows application. Now that's dull... The questionnaires were about 500 yes/no questions. This was about 20 minutes of work to automate this. The file now even parses, checks the CSV for consistency, opens up the right program. Yay!
[edit]
At my girlfriend's company they liked the time-savings so much that they asked me to make a more extensive version (supporting more programs), and they rewarded me nicely. It's now saving them many (bored) man-hours every week and reducing the chance of mistakes!
[/edit]
Monday, May 12. 2008
I like new computer interfaces. It's amazing that the Wii is allowing many people to make their own creative hacks that are actually quite powerful.
Wii finger tracking
3D tracking
I can imagine that this principle one day would also allow you to make/design physical objects just by waving your hands. At least it allows for nice augmented reality and human interfaces for CAD.
There's also the Wii nunchuck interface to arduino:
Monday, February 26. 2007
Okay, this is quite amazing. Instant messaging has always been a function separated from the browser. Historically the browser was for displaying information, but with the rise of rich and interactive websites there is more to it. You can expect many innovations in browser technology, expecially with browsers that have have a plugin framework and a large developers community (like Mozilla/Firefox). When embedding an instant messaging mechanism, you can create 'object pools' that are kept synchronized across sessions of multiple parties. The objects can be a text box (chat application) or even a chessboard or graphics application. When this collaboration mechanism is embedded in the browser, it allows for any (generic) content to be shared and collaborated on. Also
read this
if you're interested in the convergence of web and IM.
Thursday, February 1. 2007
Google Video Tip: Human Computation
Two statistics:
Billions of hours are spent playing solitaire in a year.
By comparison: Digging the panama canal took only as much as work as an average day of Solitaire playing.
Continue reading "Video Tip: Human Computation"
Friday, January 5. 2007
Innovation at SUN Microsystems. Watch and laugh.